Unveiling Pharma: A view into the pharmaceutical ecosystem
---

Annonymous
February 15, 2023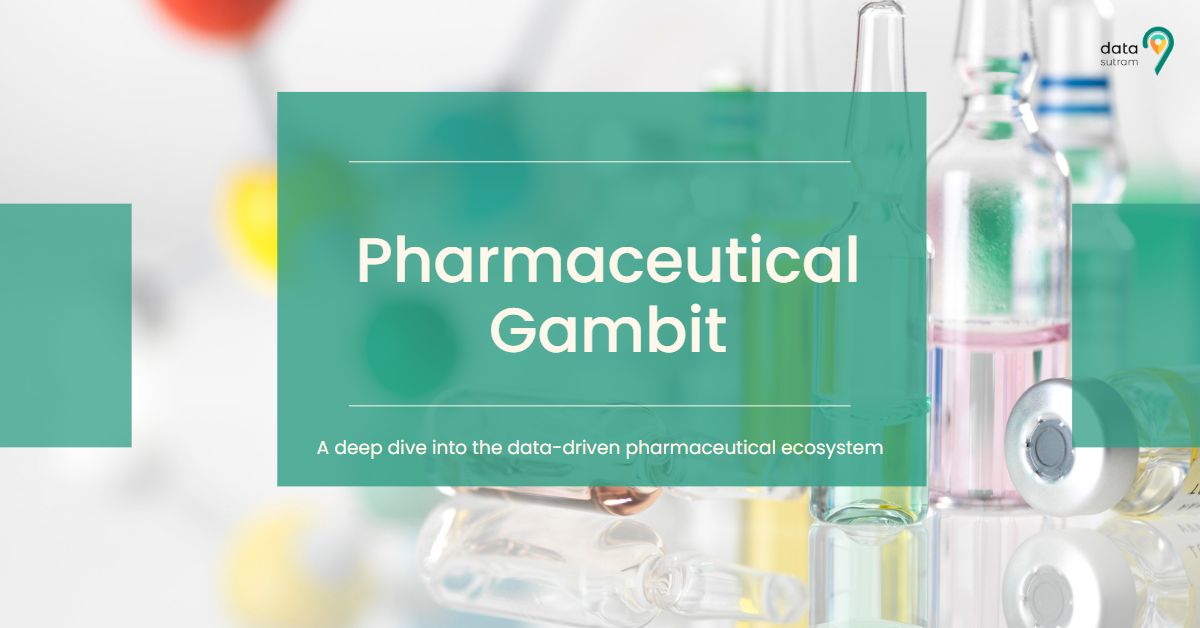 Pharmaceutical Gambit
As humans, we've always been intuitive with first aid and the first step of healthcare, and of course, we've all suffered through the homely kadha recipe. But things get worse; we ultimately tend to rush to our doctors and actually consume medicines. From the first instance of medicinal history, with Hippocrates being the doctor, manufacturer and retailer altogether, Pharmaceutics has evolved into a complete ecosystem of interdependent entities.
With every industry thriving on data, data has been changing landscapes for various sectors with newer avenues coming up, where it all narrows down to the ability of companies to predict and efficiently use the data at their disposal. The data dependency of this life science industry is evident by adopting ALCOA, the data integrity principle. ALCOA lays down the guidelines for data collected to be Attributable, Legible, Contemporaneous, Original, and Accurate.
The pharmaceutical and pharmacy ecosystem is the most dynamic and diverse industry, where the industry is constantly driven to make healthcare accessible in every geography to every demographic. 
The pharmaceutical ecosystem is broadly divided into three phases, i.e.,
From medicines being researched to you consuming the drug, the overall journey of treatment is encapsulated in this ecosystem. The ecosystem is not only a dynamic institution but also a data-driven vista. Healthcare has always had a crucial presence in the human lifecycle, and times like COVID-19 always bring us back to our dependencies on such systems. But how could the predictability of healthcare conditions during covid-19 help the pharma companies map the demands of oxygen cylinders in deprived areas? Or understanding a particular trend helps with efficient supply chain management. Pharmaceuticals have various interdependencies and issues in the industry, which sometimes can directly hamper human life.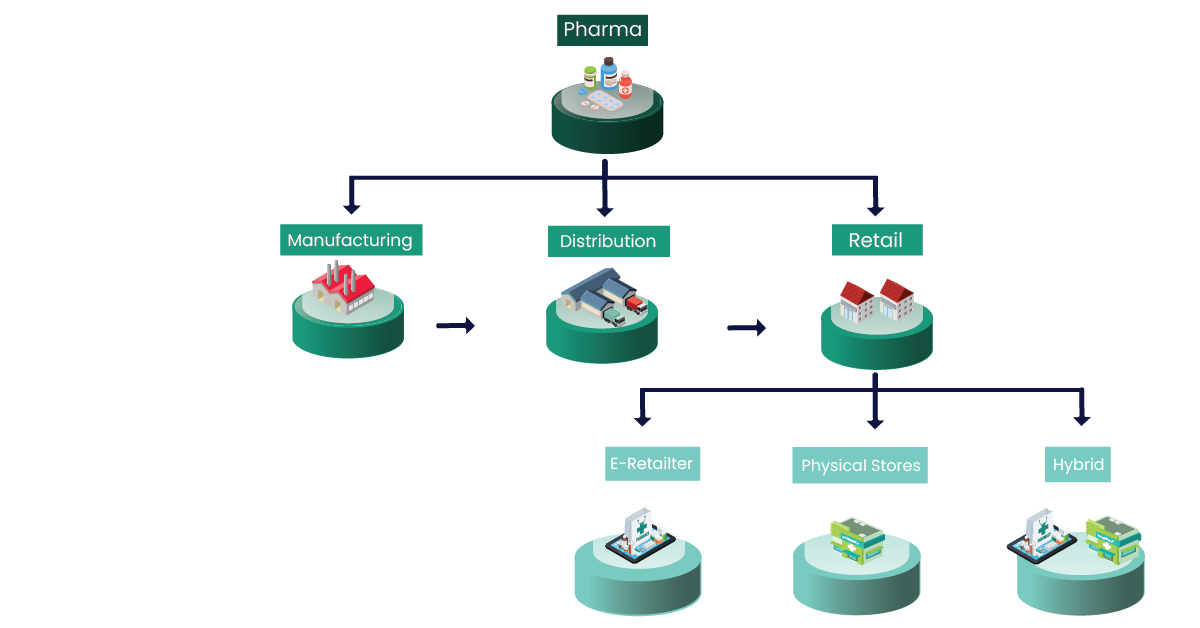 Let's look at the different segments of the ecosystem and how data is driving innovation in the industry:
Retail
Though retail isn't the first step in the journey of medicine, it indeed is the symbiosis between the customer and the manufacturer. Many neighborhood pharmacy stores for generations have been the first layer of healthcare access; they've acted as go-to pseudo physicians, as they could recommend OTC medicines for any minor disease or difficulty faced by people. Times have evolved, and everything is going virtual; even our intuitions have been addressed by data-driven e-pharmacies helping you with primary diseases. Under this superset of the pharma ecosystem is a miniature ecosystem, i.e., retail. Past the days of physical pharmacy stores, nowadays, we are in times where newer forms of promulgation have arrived. Pharmacy stores haven't been limited to the nook and corner of your neighborhood. Still, the highly unorganized nature of traditional pharma retail has given way to disruption with the virtual presence, i.e., E-pharmacy. 
The solid competition for physical stores, e-pharmacies have a competitive edge in terms of data available for their use. Though physical stores have been competitive, catering to the neighborhood customer base with minimal or, in some cases, no delivery fee. And this has been fueled by the lack of fleet scalability is vital in meeting ad-hoc delivery demands, where the customers get quicker deliveries through neighborhood stores. 
A practical solution for this gap was the Hybrid stores. Brands like Wellness Forever and Apollo pharmacy have set up pharmacy stores in potential locations, which serve as a place of sale and a stock keeping unit (SKU) for all neighborhood requirements offering quicker deliveries. Now the nesting of the ecosystem is done to provide convenience and secure accessibility to customers, and understanding the customer's behavior is driven by data. 
Knowing the customer for any retailer is as crucial as it gets. Companies make use of their internal data such as:
Historically available trends

Sales data

Customer Medical Records
To cater to their customers, companies like Data Sutram help them amalgamate this internal data with external data parameters such as:
Income group and Affluence 

Footfall

Income per store

Market Saturation

Transactional behavior
All of these data games help these pharma retailers by giving them the Sales Intelligence that they need, which allows them to effectively and facilitate:
Biosimilar products targeting

Fleet Scaling

Site Selection

Supply Chain Optimization
Distribution
Distribution is the bridge between manufacturers, retailers and healthcare professionals. This encapsulates the supply chain from manufacturing to retailers, MRs (Medical Representatives) reaching out to healthcare professionals., and various other steps of promotions and marketing of drugs. In addition to promoting and selling drugs, MRs act as data points collecting essential market intelligence. They gather information about how drugs are being used, what healthcare professionals think about them, and what unmet medical needs exist.
Being a focal point, field force management of MRs has been an issue of efficacy in terms of them being at suitable locations and mapping the results out of them. 
Reductions of NPAs and deciding which locations to target is an avenue that fills the gap of reaching out to a maximum number of healthcare professionals. 
Manufacturing
Manufacturing is the primary stage of the whole process of us receiving the medicine. Pharmaceutical Manufacturing is one of the industry's most complex, technological and evolving sections, which also requires them to be utterly precise. Manufacturing includes various technical processes such as R&D, Clinical Discovery, and FDA Review, but it is all consolidated into sales. 
The Indian pharmaceutical industry stands in the 3rd position regarding medicines produced in volume. Despite this ranking, there are various shortcomings faced by this section of the ecosystem, which results in critical situations, especially in times like the recent pandemic. In a diverse country like India, we witness
Lower volumes of medicines consumed

Poor supply chain management (delayed deliveries) -> Hospitals need more medicines. 

Unavailability of medicines to Health Care Professionals

Irregular restocking requirements

Drug availability
Homeopathy, Ayurveda, and Unani medicines impact the consumption of prescription medicines, but many of these problems are data-dependent. The difference between the manufacturing of drugs and the retailing part of it is the scale of the sale, but both are dependent on core data parameters. This brings us to various questions like
Are manufacturers present at

suitable locations?

Are existing plants

meeting the demand?

What are the reasons for

slack in delivery time?
With multiple actors involved, manufacturing operates on internal data parameters like:
Medicines manufactured

Historical data for manufacturing

Existing plants, batch size planning

Distribution chain/Existing Suppliers

OTC vs. Prescription drugs
Through Sales Intelligence, various alternative data parameters, such as 
Customer behavior

Historical trends of diseases in particular geography based on public records

The existing number of distributors/retailers in a specific area

Analyzing trends in electronic health records
can add to this internal data and help these manufacturing companies to discover clouded information about the geographies and demographics of their customers. This helps them with accurate demand forecasting, opening SKUs at optimal locations, and regular inventory management by making the most of the ability to predict. 
Is the industry getting data-driven? Key Takeaways:
Pharmaceutical manufacturing is complex and technologically advanced, with India ranking 3rd in the volume of medicines produced. However, there are challenges faced in this section of the ecosystem, including poor supply chain management, irregular restocking requirements, and drug availability.

The pharmaceutical ecosystem is divided into three phases:

manufacturing, distribution, and retail.

Data is playing an essential role in the pharmaceutical industry, from

predicting healthcare conditions to optimizing supply chain management.
Retail

: Physical pharmacy stores are facing competition from e-pharmacies, which have a competitive edge in terms of data available. Brands have adopted a hybrid model to cater to customer requirements and

use internal and external data parameters to improve sales intelligence.

Both

manufacturing

and

retailing

depend on core data parameters and operate on internal data parameters like medicines manufactured, historical data, and existing plants.

Distribution is a focal point for data collection and can be optimized with S

ales Intelligence to explore untapped regions.

With ongoing evolution, pharma is always prone to new innovations, and with alternative data in place, companies can empower the use of medicines in India.