Why Indian banks need to reconsider their strategy NOW!
---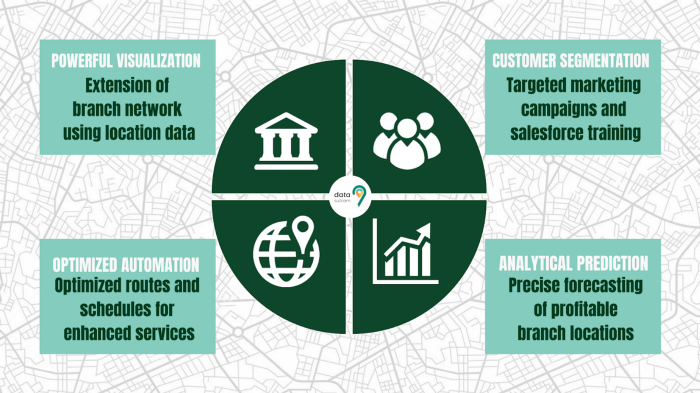 On the way towards Reinvention
Worldwide, financial institutions have been ceaselessly evolving their businesses, owing to regulatory and competitive pressures and constantly changing customer expectations. In the case of Indian banks, past technology investments were somewhat reactive and ad-hoc, such as introducing internet-based banking to augment physical branches.
However, uncoordinated investment can only take organizations so far. With some of the leading traditional banking incumbents adopting a holistic and completely data-driven approach to business transformations, the technical and experiential bar for Indian banks is rising with a sense of urgency.
Do these concerns sound pertinent?
How far is the branch office/ATM from my customer's home/workplace?

Is my field sales agent making calls? Is he restricted to his territory?

Is my cash moving safe and secure?

Are my advertising billboards placed right displaying correct offers?

Is the loan verification happening in the right customer location?

How do I drive higher sales productivity of my field force?
Time for Indian banks to start optimizing their performances and strategies?
To procure appropriate answers to the above questions, banks these days need to create invaluable actionable insights from data, for the fulfillment of the existing or imminent customer requirements. The Indian banking sector is plagued with huge streams of datasets often operating in silos. What is needed right now is the application of intelligence to their business models, thereby making them easy to be analyzed. The adoption of GIS followed by a gain in momentum by Location Intelligence is the need of the hour, that'd help Indian banks solve a plethora of problems and take better decisions in the following domains:
Expansion of existing business networks.
Increase in customer wallet share.
Personalization of banking services.
Risk mitigation when it comes to digital lending.
An offering of better and newer products.
How exactly would Location DNA bring about this transformation?
Geospatial data or location-enabled data sets are an asset to banks. It helps them see patterns, trends that are otherwise impossible to detect with traditional analytics and visualization.
Powerful visualization of data for extension of branch network:
Comparison of branch locations with competitors.
Evaluation of branch-wise performance metrics.
A clear picture of branches under or overseen.
The decision about the area-specific branch type is based on demographic data captured.
Customer segmentation:
Targeted marketing campaigns for upselling/cross-selling.
Training field force to improve region-specific customer interaction.
Analytical Prediction:
Precise forecasting of profitable branch locations based on client proximity or competitive presence.
Identification of current network gaps.
Optimized Automation:
Optimized routes and schedules for enhanced services.
Create smart workflows for the mobility of sales teams.
To the future and beyond
Technology is no longer optional for Indian banking services. Location Intelligence is gradually becoming the driving force for the banking sector, starting from providing a holistic overview of the business with thematic mapping, to getting hold of frauds via real-time tracking. The revolution and strategies, if not accepted and well-adapted to, might lead to the Indian banking scenario getting stuck in a deep abyss of time and underdevelopment.