Unified Payments Interface (UPI): How is UPI transforming the way people are transacting?
---

Annonymous
February 28, 2023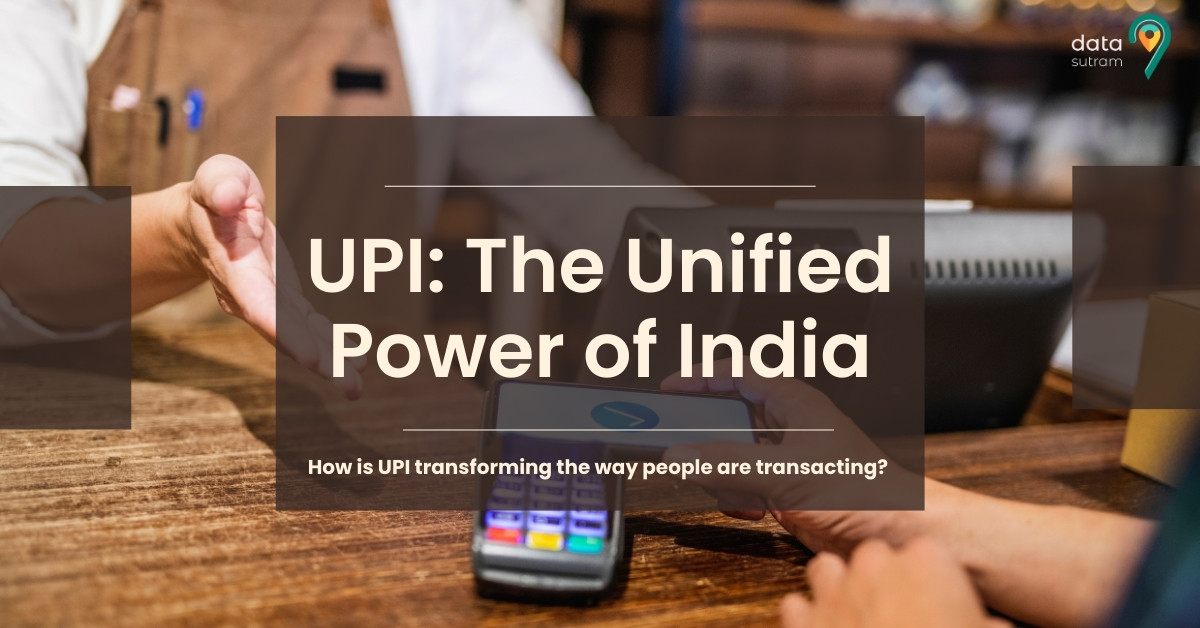 Do you remember the first time you paid someone using any UPI (Unified Payments Interface) application? If you think long, and hard, and also check your first payment, you will know the answer to this question, UPI was introduced in India on April 11, 2016, and today, almost everyone you know is using some or the other UPI application. Now, imagine your life without UPI transactions. Before you start thinking about how much cash should I transact for when this happens, STOP! 
Luckily, this is just a thought but it allows us to understand the extent to which UPI has taken over our lives. Online payments have become our go-to and there are people who have stopped carrying cash altogether. It is extremely strange how technology changes our daily lives and we adapt to it so quickly. Let's understand what is UPI and how is it changing the way people are transacting, before that, prepare to have your mind blown.
Never-Believe Facts about UPI
As India is embracing digital payments, believe it or not, UPI is the key driver for this transformation. The country is using UPI for not just big checks but also the lowest amounts with 50% of the total transactions being less than Rs. 200! The number of players in this segment has also increased and ¼ Indians are on the PhonePe application. The application is covering 44+ crore registered users. This gives us an idea of how widespread and necessary UPI usage has become. 
While describing India, people often mention the phrase "Unity in Diversity", today we can also conveniently refer to the phrase as "UPI in Diversity" because everyone is a part of the digital payment revolution. According to a PayTM report, Katpadi in Tamilnadu is the fastest-growing city for digital payments which witnessed 7x growth in 2022. Moreover, digital transactions from over 19,000 pin codes which constituted about 99% of the country were recorded in 2022. 
Certain other interesting insights about UPI include that the most common amount transferred to any contact is Rs. 1000 and a PayTM report highlighted that 07:23 PM is the time when the maximum number of transactions happened in 2022. Still not blown away by the impact? Guess the number of ATM trips that have been avoided because of PayTM. It's 1,618,796,629 trips. 
These facts help us understand the impact UPI is having on the country. If you rewind around eight years ago, people primarily used cash for any kind of transaction and today everyone is on the UPI bandwagon. This is helping the country reach its goal of financial inclusion. That being said, NPCI's strategy for UPI reminds us of the quote: "If you want to walk fast, walk alone. If you want to walk far, walk together." Let's now understand what is UPI and how it works.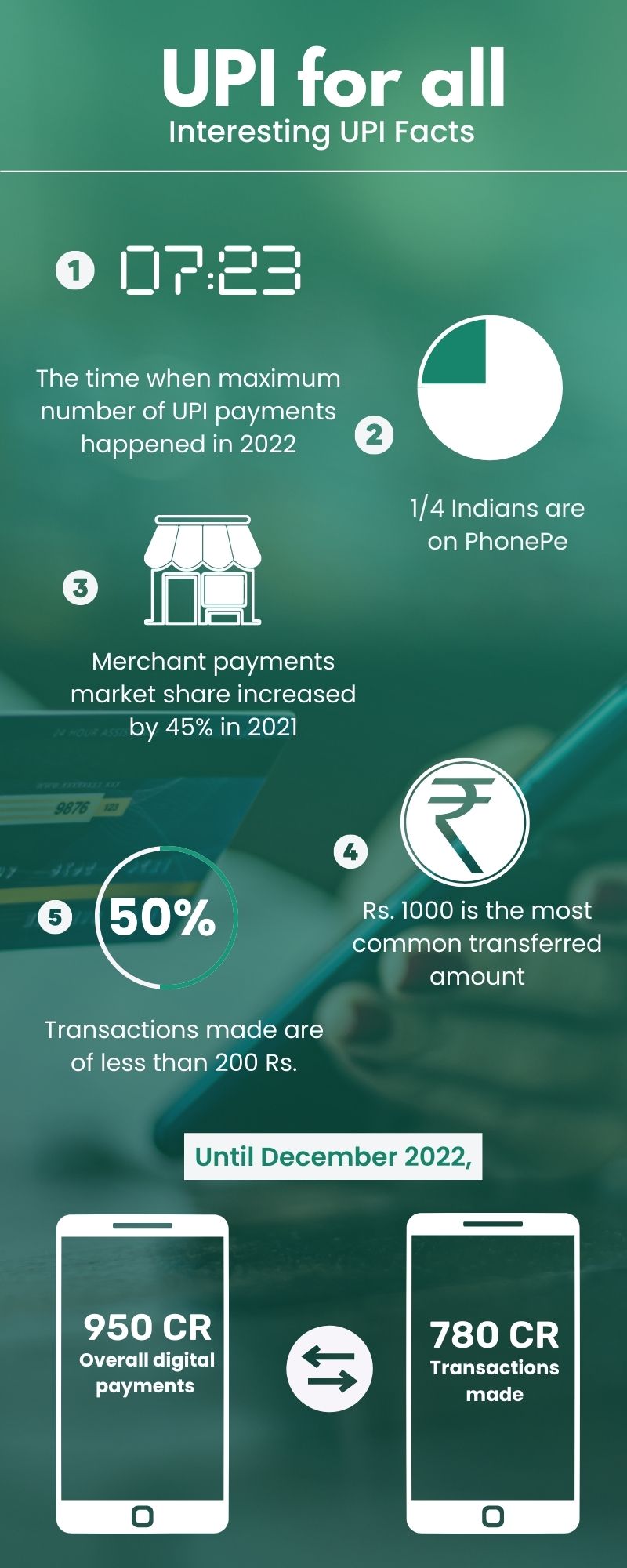 What is UPI and how does it work?
UPI or Unified Payments Interface was introduced by NPCI (National Payments Corporation of India) in 2016. UPI is a payment method that allows everyone to transfer money from one bank account to another using a single payment platform. This makes transferring money easy, and fast and it can be done free of charge. 
Individuals, merchants, or anyone can send/receive money by entering the recipient's phone number/ UPI ID on your UPI application. You don't have to enter your bank details or other sensitive information repetitively while making UPI payments. Here's how UPI works:
Registration

– You need to first download any UPI-enabled application (Google Pay, PhonePe, etc.) and register by entering your phone number, bank account details, and some personal information. After this, you will get a VPA (Virtual Payment Address) which will be unique to you and linked to your bank account. For eg. sharmajikirana@axusbank. You also need to set a UPI pin that you will enter at the time of the transaction

Payment Initiation – To initiate a payment, you need to enter the receiver's phone number, and UPI ID or scan their QR, and enter the amount and your UPI pin.
Transaction Authorization – After the payment has been initiated, UPI sends a request to your bank to debit the amount and transfer it to the receiver's account. This request includes a unique transaction ID, Amount details, receiver's VPA, and payment purpose.
Payment Routing – Using the transaction ID and other details, UPI identifies the receiver's bank and sends a request to debit the amount and credit it to the receiver's account. The payment is processed in real-time and the recipient gets a confirmation once the transaction is complete.
UPI also includes additional features like requesting payment, paying bills, splitting bills, etc. You can also use NFC technology or scan QR codes to make payments.
The benefits of using UPI
UPI makes transferring money extremely easy and convenient. Here are some more benefits of using UPI:
You can transfer money immediately using your mobile 365 days / 24*7

Transferring money through UPI is secure and safe

You can not just transfer money to people but also pay bills, and buy on e-commerce as well as physical stores like chemists, grocery stores, etc.

Most UPI applications also let you earn a little something extra like discount codes, vouchers, cashback, etc. when you transact using the app. 

You can transfer as low as one rupee and as much as 1 lakh (limit varies from bank to bank) using UPI applications. 
The Role of Data in UPI
Being a digital payment system, data plays a crucial role in UPI's functioning. In every step of the payment process, data is the key element that UPI uses. Data is used for identifying users to see that the payment is being processed to the correct person. A unique transaction ID to ensure correct payments are going through is also formed with the help of data. With the help of data, UPI can analyze transaction volume, average ticket size, and user demographics, to identify trends and make data-driven decisions. These insights can also be utilized to enhance the user's experience and make the platform more accessible. 
An alternative data layer on top of this can help UPI take one step forward:
Detection of Fraud –

With the help of alternative data sources like

transaction activity, device information, social media activity, etc.

UPI can identify suspicious activity and mark them as red flags.

Targeted Marketing – By using various alternative data sources, UPI can market/ advertise relevant products and services to users and also alter the rewards that they get according to it.
Personalized Financial Advice – Since people use UPI for their transactions, users can have the option to opt-in for personalized financial advice on their applications to help them reach their financial goals.
How is UPI changing the way people are transacting?
Since the inception of UPI, the overall digital payments stood at 950 Cr. and 780 Cr. transactions were made until December 2022. In the span of six years, UPI has grown exponentially and no one could have predicted that it would reach such huge numbers. 
UPI is reaching the nook and corner of the country and it is creating a huge impact on the financial inclusion of India. "UPI for all" has helped people transact from, to, and in places where people were unaware of digital transactions altogether. Today, you can witness that millions of people are participating in the digital economy with the help of UPI. It has enabled NTB, NTC, and people who transacted primarily in cash to enter the credit ecosystem. You, me, Sharma Ji, street vendors, and also people in the interior villages of India are connected through UPI. 
If you look closely, in a very short span of time, the way people are transacting has completely changed. Gone are the days when your building's guard or house help had to rush to their village because they forgot to pay their kid's school fees and the last day of payment is just around the corner. Isn't that breathtaking?
UPI is lying at the root of promoting financial inclusion and the $5 trillion vision of the Indian economy as it is in very simple words enabling everyone to transact simply by owning a bank account and a smartphone. Even those who don't have physical banks present near them can use UPI. 
Apart from the power of enabling people, UPI is also leading financial literacy in the country, people are understanding how to make payments and receive payments using their smartphones, knowing the benefits of owning a bank account, and in general, learning how to manage money better. Here, digital literacy and financial literacy are going hand in hand. 
The current UPI scenario paints a picture of how upliftment looks like with the help of technology. And now NPCI is getting ready to make this convenience available across the globe. Recently, RBI announced that now travelers from G20 countries will be able to make payments using UPI. Last week, PhonePe also announced offering Indians traveling to Singapore and UAE the ease of paying with the help of UPI. While the international scene sounds interesting there are still certain aspects of it that are unclear.