Top five ways that would make you a better field sales agent
---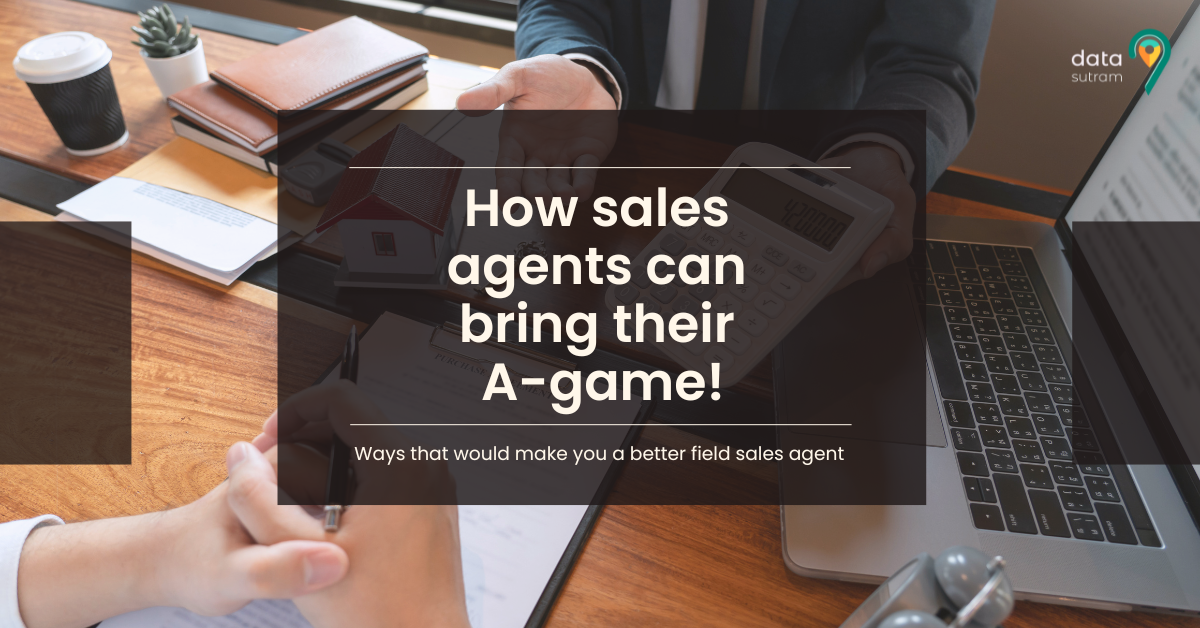 Being a field sales agent often involves handling extreme pressure. Even if you don't consider the massive pressure of targets, daily goals, weekly and monthly reviews, etc. there's still traveling from one location to another while the sun is exactly on top of your head, with having to eat on the go and also breathing in the dust that smells like pure hard work. Does it sound relatable to you?
Your job not only involves using the soft skill of convincing someone to buy the product but also takes up a lot of physical energy. So, being always on your A-game becomes difficult. We get it and we have some suggestions for you.
Have you heard of the idiom, "It's not rocket science?" It's time you memorize it because improving your performance is not very difficult! It's simply being disciplined and having some tricks in your pocket. So, let's dive in…
Steps that Can Help You Be a Better Sales Agent
There are numerous practices that you can involve in your day-to-day activities to make your job as a sales agent easier. These tips will help you close more deals and also manage your time better.
1. Mastering the Art of Follow-Ups
If there was a holy book for sales agents, then the first scripture would be the difference timely follow-ups can make. You should keep track of how many times you have called a prospective client and also track how often you are contacting them. While following up, you should remember that calling too often will make you seem desperate, and maybe your customer will forget about you if you call after huge gaps.
You should know the right number of follow-ups and gauge whether the person is truly interested in your product or not. This takes practice and a little bit of research but once you get into the habit of tracking and calling timely, the rest will be a cakewalk!
2. Organizational A-Game
Forget about being a sales agent for a minute as this tip will come in handy no matter what profession you are in. Being organized can help you save a lot of time and trouble.
As a sales agent, instead of tracking 100 sheets, for 20 different customers, and segregating them based on a weekly or monthly basis, try and keep minimum sheets. This way you can keep track of everything easily. You should also know which sheets are located where so you can fire it up whenever your manager requests them. If you have not stayed organized since day one, and are inside a pool of data then you should consider taking some time out every week and sort everything out slowly.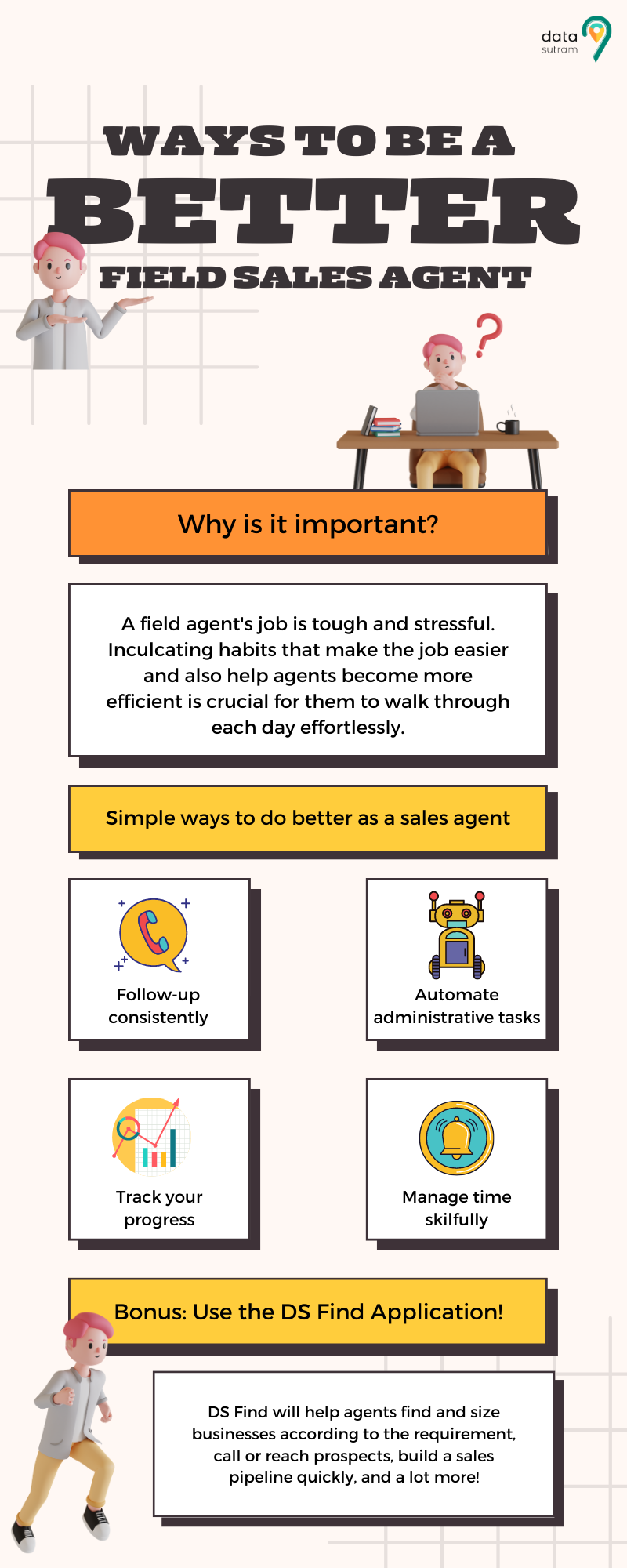 3. Tracking, Tracking, Tracking…
Which stage has your prospective customer reached? How many meetings were organized? Did the manager step into any of your calls? What were their doubts? Do you need to visit them? So many questions and so little time!
You should always be on top of tracking your progress. Instead of spending more time and energy to remember what happened on the last call, you can add comments or take notes with the date/time and put your mind to rest (thank us later!) Before you tell yourself that you can remember everything, take a moment and remind yourself that you are only human, and if a machine can make your task easier then let it do the job.
4. Utilize your Time Efficiently
If you do the three points mentioned above, you will naturally achieve this to some extent. Utilizing time efficiently also means treating all your tasks based on priority and delegating the tasks that can be taken care of by someone else.
As a sales agent, you may be spending a significant amount of time on administrative tasks such as creating and updating spreadsheets, organizing information, and manually keeping track of follow-ups. Without technology to help you with these tasks, you could be wasting up to 2 hours per day or 50 hours per month.
Furthermore, let's assume that you could have made 2 additional sales per week if you had more time to focus on selling, this would be a total of 8 additional sales per month. And assuming an average sale made is of Rs.10,000 this means that you are losing out on Rs. 80,000 in sales per month! And this is the math for only one sales agent.
If you manage time efficiently, then you can increase your conversion rate and also utilize all your opportunities to the fullest. As a sales agent, you can choose to visit the lead that is closest to you first and then move ahead accordingly. You can also take shorter routes to make the most of your time.
5. Technology is your Ally
Today, you can do everything you need to go about your day with the help of a simple mobile application DS Find!
Data Sutram introduced DS Find for field sales agents like you and your managers so you can channel your energies into selling. The DS Find application helps you to find customers around your location. By entering your pin code or location, it displays all the opportunities that you can tap into. You also have categories and filters that help you only look at the opportunities that are relevant to you and your business. The application also has the option to either call the business or reach them. With the help of these features, you can easily plan your day.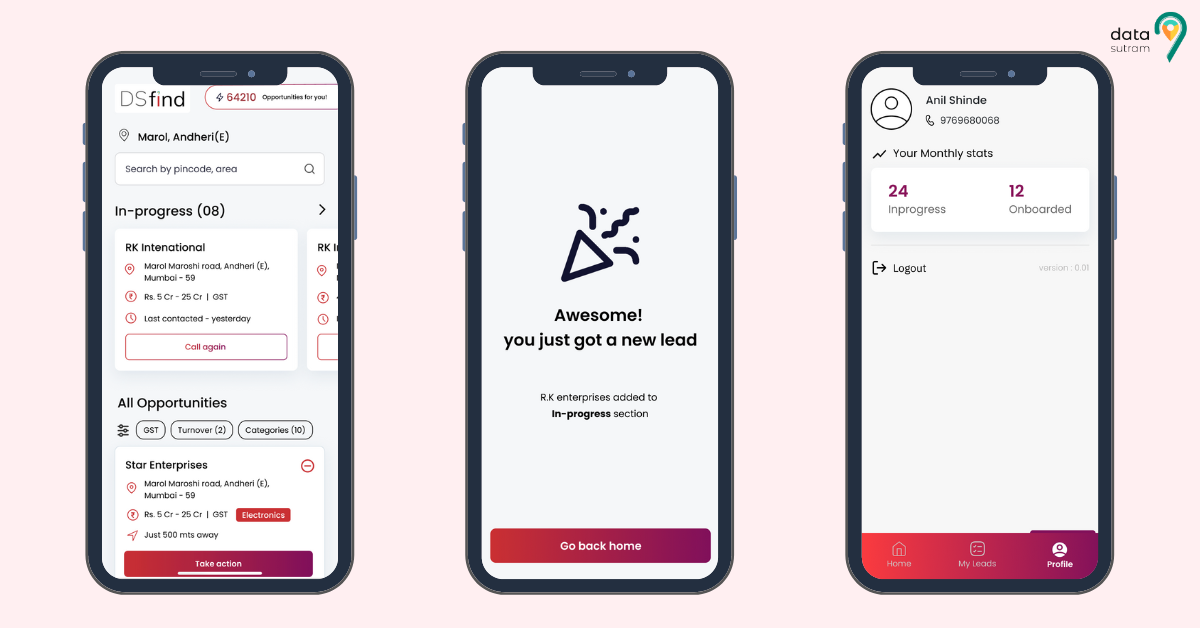 The application will you give so much ease that after every opportunity you target, you can update how your conversation with the customer went and if it went well, you can add it to the leads section or remove it from your list, in the other scenario. You don't even have to answer long calls with your manager to fill them in. They can see how many leads you have in progress and how many have turned into customers.
This way by simply getting the DS Find application, you can pick up your phone and go about your day! And now that you have these tips in your pocket, all you have to do is 'Execute! Execute! Execute!'. You can also reach out to or book a demo with Data Sutram to know more about the power of DS Find!