Top 3 ways of Merchant Onboarding by Financial Institutions
---

Annonymous
August 17, 2021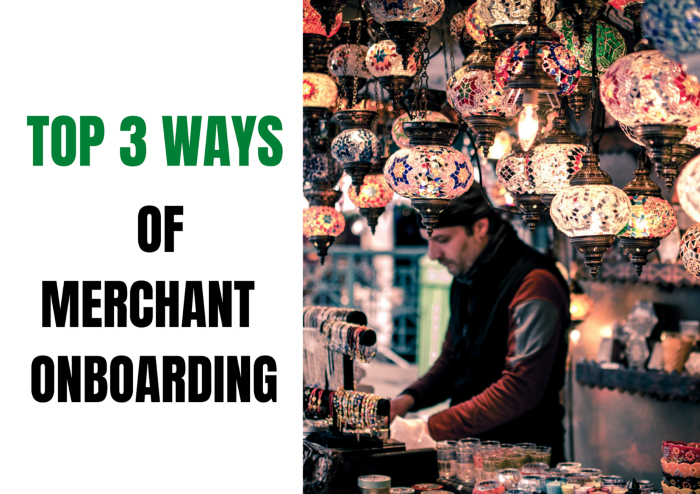 What is Merchant Onboarding?
The various parties involved in online payment include:
Customer
Merchant
Payment Processor & Payment Gateway
Merchant Account/Acquiring Bank
Issuing Bank
The methodology involving payment processors can be explained in a few brief steps:
Customer pays merchant via card/payment processing applications
The transaction request from the payment processor is acknowledged by the acquiring bank, which allows the merchant to obtain a merchant account for carrying out transactions
After cross-checking with the card network, the transaction request is passed to the issuing bank, which can accept or reject the transaction
The follow-up approval or disapproval is circulated back the same pathway, to the acquiring bank and then the merchant
Traditionally, acquiring banks would have to deal with the enormous number of merchant applications by themselves. This was tedious, unprofitable, and unproductive and thus, intermediate entities such as Independent Agents, Independent Sales Organizations, and Payment Facilitators arose.
Merchant onboarding can be explained as connecting the merchant to the electronic payment processing system. Hence, the primary metric by which payment companies measure their growth is the number of merchants they can onboard, as quickly and efficiently as possible.
A Cumbersome Sequence of Events
Merchant onboarding generally requires a multi-step procedure protocol to be followed, which is as follows:
Prescreening process by analyzing sales, the revenue of merchant
Verification of Identity
Merchant History Check to identify any suspicious or unfavorable behavior
Business Model Analysis to assess viability and sustainability of merchant's business
Compliance of Merchant Information with Card Networks
Assessing Credit Risk
Thanks to technology, the manual aspect of the mandatory process can be greatly minimized to reduce costs and improve productivity. Here are the top 3 modern ways of simplifying the complicated procedure of merchant onboarding:
Automated Merchant Data Submission Portals
Better and efficient data management through APIs
Merchant IDs can be issued immediately and after cross verification from underwriters, applicants can start processing payments within a time span as quick as 24 hours
For cluster-specific underwriters, Merchant IDs can be redistributed within enterprises like restaurants to get the payment processing running within 1–2 days
2. Location Specific Risk Analysis
Calculating merchant risk scorecard to derive a correlation between delinquency rates and location of stores
Identifying patterns of frauds, loan defaults, and other undesirable behavior
3. Hyperlocal Market Overview
Geospatial insights into economic activity around merchant's store location to assess demand and sustainability of the venture
Obtaining macroscopic scope of merchants and vendors based on applicant Pincode
The importance of a smooth merchant onboarding process lies in the potential of building a mutually symbiotic relationship by minimizing monetary losses and reputation. With the help of the aforementioned technological tools, the backbone of financial transactions can only be strengthened further.