Secured Convenience or Convenient Security?
---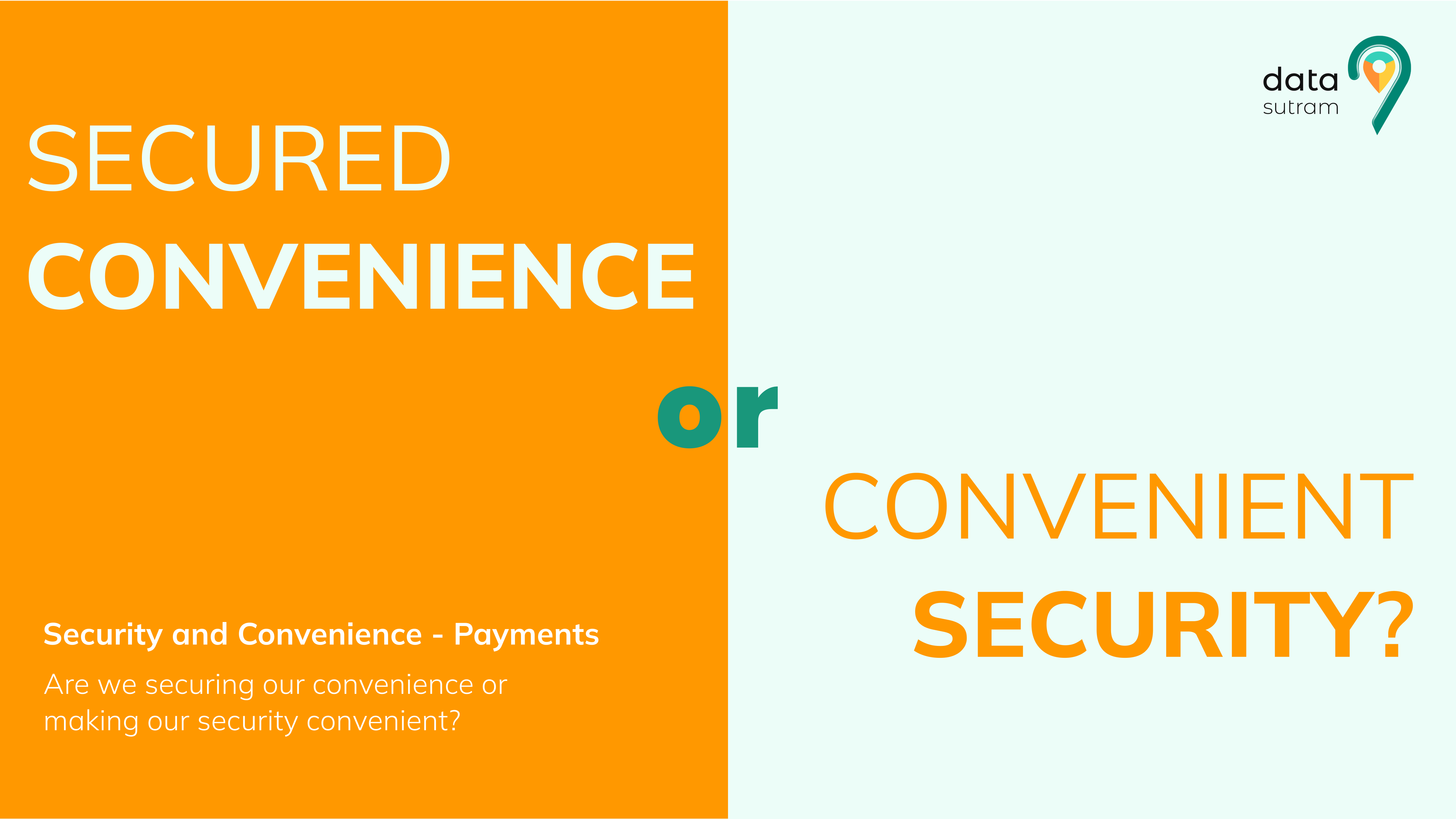 Introduction
From watching our grandfathers submitting cheques at a bank to completing payments with a single click, the forever transitioning payment systems have ensured the nation's financial inclusion and faster steps towards economic stability. With RBI proliferating the banking scenario in the country, India has one of the most modern payment systems in the world. The payments landscape is breaking new grounds for fintech and payment companies to align with this vision. 
Security and user convenience are one of the primary mandates of RBI as these help users to be confident and hassle-free while making payments.
With the changing nature of payments, our trust varies based on our intuitions. For example, while paying, people often spend less while making UPI payments and trust their cards and cheques while dealing in lakhs. But why do our intuitions shadow our trust in the payment systems even after being aware?
Does additional convenience compromise our security? Or, with added security, there is always an inconvenient payment experience? 
What matters more?
Growth in payment convenience helps the common man with enhanced confidence and promotes financial inclusion in rural areas and tier-3+ cities. As the result of the previous vision, 24*7 helplines were set up, UPI limits increased, and mobile banking saw a rise of 50% making payments more convenient for multitudes. Many FinTechs and Payment providers are making the payments process smooth for users by eliminating rigorous authentications to increase convenience and make payments faster. But this haste often gives us a feeling of compromising the security or something going wrong. 
Remember the spy movies where the secret files room had all kinds of biometric verifications to enter the room and then another drama of securities to access the file? No wonder the process looked tedious but getting something valuable at the end always came with satisfaction for the viewers. 
Similarly, do we feel more secure while paying using Net-banking or Debit and Credit Cards because we always deal with complex passwords, numerical identification, and the complete process of entering every detail, again and again, gives us a feeling of what the secret agent felt? 
Making monetary transactions always requires security, and traditionally verifying a person's identity has forever been a long process. Commitment to user security and fraud mitigation has always been the center of payments, but this process is often inconvenient for the user. 
For example, if you had to make a payment for the minor ticket size and go through the whole process of entering your details multiple times, you would lose motivation to adopt the protracted approach. Instead, we will compromise on the security because your loss wouldn't be significant even in the worst conditions. 
Security and convenience are driven by innovation. But given the innovations and adoption of technology, can an elusive balance be made between the two?
The co-existence 
Given the government's vision of providing every user with Safe, Secure, Fast, Convenient, Accessible, and Affordable e-payment options, the payments need to be more affordable, convenient and secure for an evolving user experience. 
The context of security and convenience is essential in developing a more enhanced customer lifecycle. As solution providers, we must identify and execute the next best action across this cycle. 
Alternative data sources and assets help us formulate better strategies for these actions. As we alternatively identify risks, the change of context changes the direction of the solution. 
Understanding users' transactional behavior, using behavioral biometrics, and legal identifiers are a few of the many parameters that give us a newer dimension to formulate solutions. Not only on the user side but it also allows us to intelligently identify anomalies that help detect potentially fraudulent activities before they even happen.
Conclusion
With Pradhan Mantri Jan Dhan Yojana, Pradhan Mantri Bima Yojana and several other financial schemes, India is on its way to being more financially inclusive and digitally ahead than ever. 
Educating the masses, creating awareness, reducing transaction charges, helping the unbanked population to open bank accounts, and distributing new payment instruments are among the many strategies to include even the last person remaining in the country. 
As we witness the structured development of the payment ecosystem in India, the payments vision by RBI always delivers a milestone and provides us with the plan for the journey ahead. Since digital payments have increased by 216% in volume and 10% in value, technology and innovation are being adopted significantly by the institution. 
These avenues invite fintechs and payment companies to provide solutions and facilitate this vision. With added merchant and user convenience, more customers are onboarded by payment companies and FinTechs than ever. 
With these opportunities, companies like Data Sutram are aligning with the government's goals and aiding businesses, FinTechs, and payment providers to be part of this mission. Our insights and intel generated from alternative data sources help these organizations better profile their customers, mitigate risks, reduce failed transactions, enhance fraud investigations, and be a step ahead with other use cases and intrinsic to the vision.